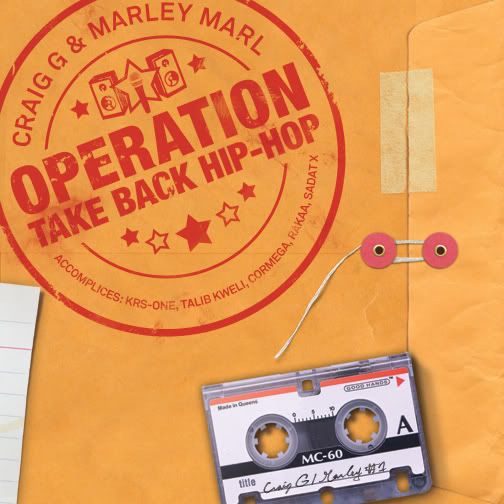 Marley Marl continua a essere prolifico anche ad anni di distanza dal suo periodo d'oro,infatti dopo Hip-Hop Lives con KRS-One,è pronoto a far uscire il 17 Giugno,Operation:Take Basck Hip-Hop,con Craig G.Una grande notizia per i fan della storia Juice Crew.L'album vedrà come ospiti KRS-One,Talib Kweli,Cormega,Sadat X e altri.La prima traccia estratta è Made The Change.
Craig G & Marley Marl-Made The Change
Il duo composto da Cee-lo Green e Danger Mouse continua a ricevere onoreficienze ovunque,almeno qualcosa di buono in tv lo fanno vedere.
Nuovo video per Don't Touch Me di Busta Rhymes.
Primo album di uno dei gruppi che ha fatto la storia di questo genere,gli Outkast.
1. "Peaches" – :51
2. "Myintrotoletuknow" – 2:40
3. "Ain't No Thang" – 5:39
4. "Welcome to Atlanta (Interlude)" – :58
5. "Southernplayalisticadillacmuzik" – 5:18
6. "Call of da Wild" featuring Goodie Mob – 6:06
7. "Player's Ball [Original Version]" – 4:21
8. "Claimin' True" – 4:43
9. "Club Donkey Ass (Interlude)" – :25
10. "Funky Ride" – 6:31
11. "Flim Flam (Interlude)" – 1:15
12. "Git Up, Git Out featuring Goodie Mob" – 7:27
13. "True Dat (Interlude)" – 1:16
14. "Crumblin' Erb" – 5:10
15. "Hootie Hoo" – 3:59
16. "D.E.E.P." – 5:31
17. "Player's Ball (Reprise)" – 2:20
Outkast-Southernplayalisticadillacmuzik 1994